What do you think of when you hear Bali?
We think of yoga and warm weather. That's why we named our tights after this beautiful island. Because it was developed for slightly warmer weather and particularly dynamic movements. Whether for a gymnastics unit in the living room, a mountain run in spring or an evening jogging round in autumn. Due to the extremely elastic fabric , the leggings fit tightly, but do not restrict freedom of movement. And so that women can slip in easily, there are zippers at the leg ends.
A special highlight of the Bali tights are the reflectors on the leg ends. Especially if you want to work out after work when it is already dark, these are a particular advantage. If you walk along a street, you will be better recognized by drivers and cyclists and are therefore more protected.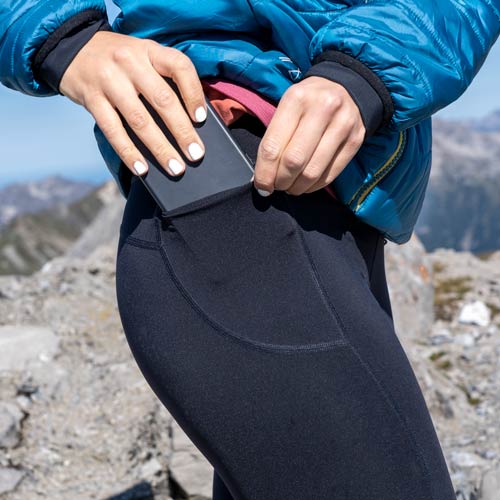 The sports leggings also have a cell phone compartment. So that you can safely stow your smartphone while exercising. Be it to listen to music or to track your successes.
Something that we particularly like about Bali is the fact that everything about it - except for the name - comes from Europe. The design, the material and also the manufacturing. It is a great addition to our "Made in Europe" line. The fabric comes from the French company Sofileta and the functional garment was then produced in Lithuania.Made in Europe"-Linie. Der Stoff kommt von der französischen Firma Sofileta und produziert wurde das Funktions-Kleidungsstück anschließend in Litauen.